Why QuickSwap Will Split Token After Community Vote, QUICK Rises By 30%
Wed, 23 Mar 2022 23:00:53 +0000
The QuickSwap community has decided to split the platform's native token, QUICK. Reacting to the upside in the last hour and past 7-days, QUICK could see more upside as the Polygon-based decentralized exchange moves to increase its level of adoption.
Related Reading | QuickSwap Asks The Community, To Split or Not to Split QUICK Token?
At the time of writing, QuickSwap (QUICK) trades at $225 with a 2.6% and 31% profit in 24-hours and one week, respectively. QUICK has seen its largest profits, on low timeframes on March 19 and 20, as the community inclined to split the token in 1:1000 proportion.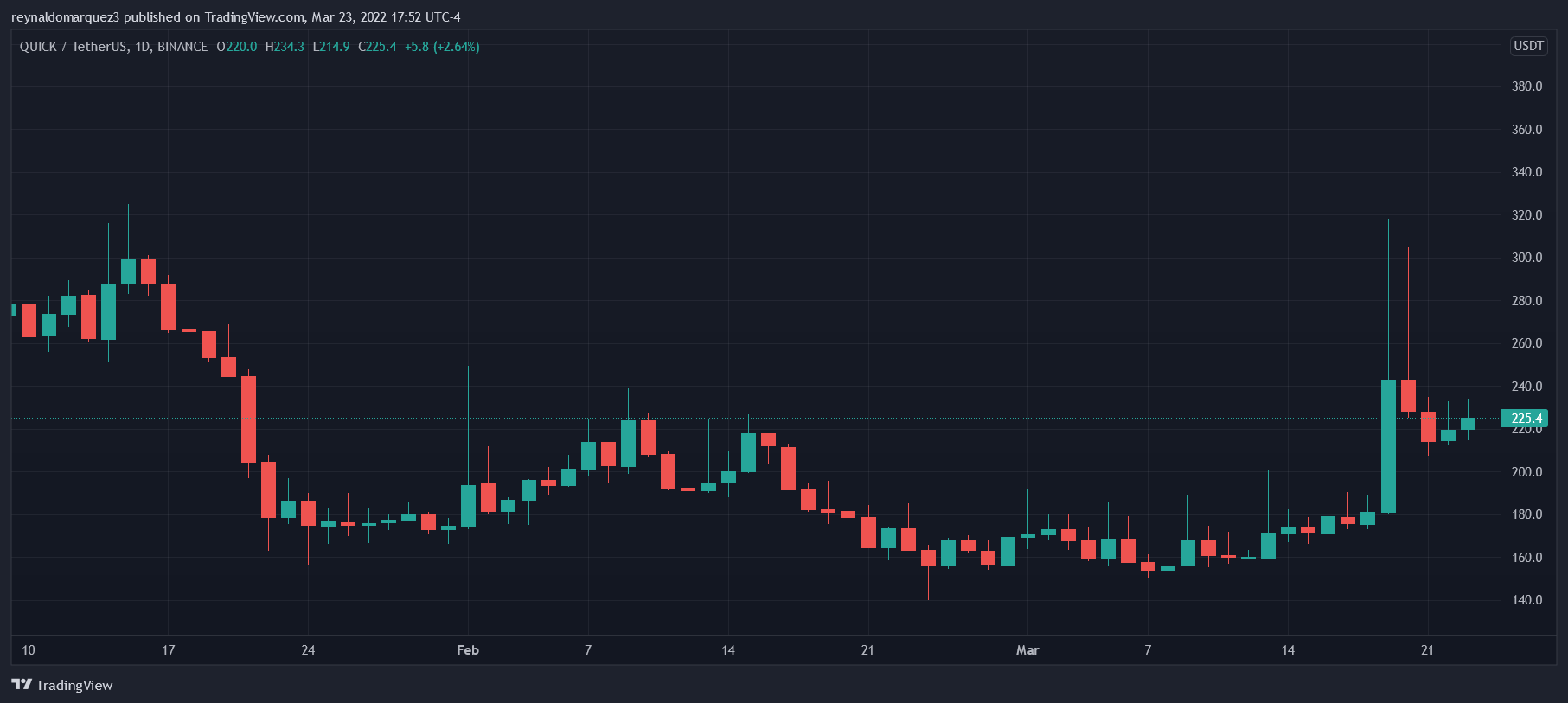 Via their official Twitter handle, QuickSwap reported that the token split by 1:1000 was approved by 84% of the participants. Previously, the project asked the community if they wanted to split QUICK at all.
At that time, 93% of the users voted yes to the token split event. On their different social media platform, the team behind the project and several community members began a heated debate to determine the potential benefits and trade-offs for this token split.
QUICK's total supply will growth from 1 million tokens to 1 billion tokens. Conversely, the price of the token will be reduced but token holders will preserve their investment value. They will hold more QUICK as a consequence of the process. The team behind the project said:
Increasing QUICK's maximum supply will reduce the asset's price per unit, making it more appealing to crypto enthusiasts who compare QUICK to other DEX tokens without considering supply.
This event is aimed at increasing QuickSwap's levels of adoption as the token will become more accessible for retail investors. The team behind the project added:
We've submitted our conversion contract to external auditors. When they are finished auditing the code, we will provide more details about how to convert.
As the team members clarified, the token split will take time. QUICK holders, liquidity providers, stakers, and other participants were asked to continue with their usual activity "until further notice".
Can QuickSwap Replicate Polkadot's Success?
In the coming weeks, QUICK holders will receive instructions on how they will convert their tokens. The team added:
We believe this change to QUICK's tokenomics will positively impact all QUICK and dQUICK holders in the long term. By increasing QUICK's total supply from 1 million tokens to 1 billion tokens, we are bringing QUICK more inline with other DEX tokens whose mode maximum supply is 1 billion.
During their voting and debating process, as NewsBTC reported, some users compared the upcoming token split with Polkadot's. This project went through a similar event back in 2020.
Related Reading | Polygon's QuickSwap Considers Token Split, Why It Could Be Bullish For QUICK
After, DOT became of the top 10 cryptocurrencies by market cap, saw an increase in its trading volume, and active daily addresses. However, as the team behind QuickSwap said, there are no guarantees that QUICK will experience something similar.